While camping and off-roading have their own challenges and adventures, nothing beats the experience of overlanding. This way of exploration dates back to the early 1900s but has become quite popular in the United States in recent years. The unique form of vehicle-based expedition was made desirable by outdoor enthusiasts who have a passion for living off-the-grid and enjoying nature in its full glory. 
With all the custom truck accessories and camper shells available at TSA Custom Car and Truck, you too can be a true overlander. Our products are top-notch quality from the most reliable brands so you can focus on the road ahead, without worrying about how you're going to get there. Learn more below about the gear needed for a successful adventure. 
CHECK OUT OUR TRUCK ACCESSORIES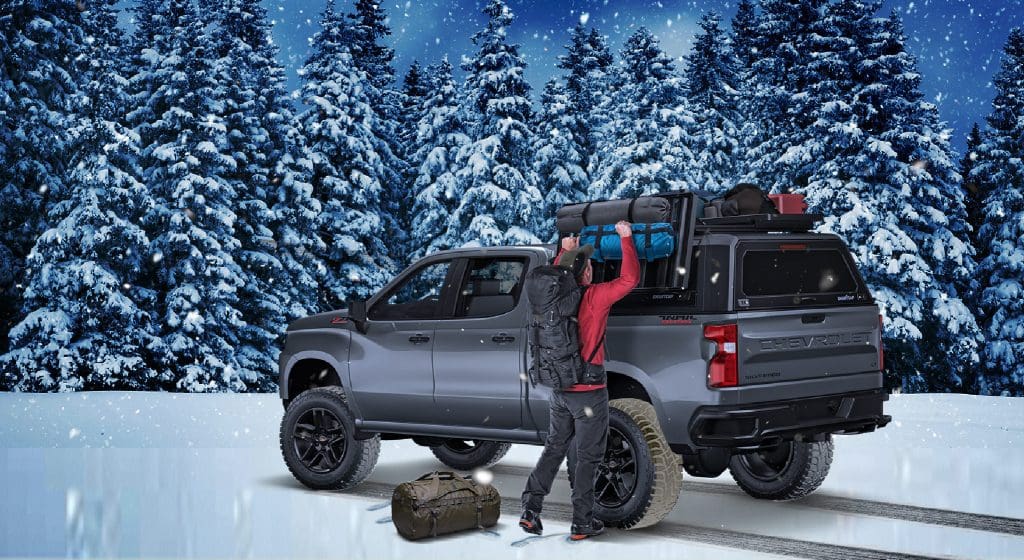 What is Overlanding?
The textbook definition is "self-reliant adventure travel to remote destinations where the journey is the principal goal." Oftentimes, travelers will choose a mechanized off-road capable transport such as trucks and even bicycles. Lodging is usually done in the form of camping and trips often last for extended lengths of time ranging between months and years. 
Unlike your typical camping trip or off-roading adventure, overlanding involves long-distance travel to remote locations that are mostly uncharted territory and have yet to be explored. Some travelers even span international boundaries to seek the most secluded landscapes. Having to go across all types of terrain from boulder crawling and driving up mountains to wading through high waters and thick mud, you need to be adventurous, self-reliant, and endurant. 
Essential Gear 
To ensure a successful adventure, you need the proper equipment and tools to bear the great outdoors. Think of your rig as a means to an end. Essentially, it's a tool to help you safely reach your destination so that you can enjoy your explorations. 
Since you're going to be on the road and away from most of civilization during your travels, it's crucial that you properly prepare for your trip. Not only will this help keep you safe, but it also makes your journey more comfortable. Your rig should include:
Vehicle Equipment

Navigation and Communication Tools

Cooking Essentials

Camping Gear

Safety Supplies
Truck Accessories
Before you can go overlanding, you need a vehicle that will get you to your destinations and keep you safe while out on the road. Your vehicle should be equipped with a bit more than the typical off-road vehicle. 4WD is a must and upgraded, aggressive tires will ensure you get over any mountain with ease. However, you will also need additional storage, a hi-lift jack, winch, air compressor, generator, and tool kit. Some travelers also include more progressive items in their rig such as solar panels.  
Your overland vehicle should also be equipped with backup items such as extra fuel stored in jerry cans and portable battery chargers.
Navigation and Communication Tools
While traveling, you can save yourself a lot of time by having the proper navigation and communication tools on deck. When driving through terrain on undocumented roads with little to no cell phone service, Google maps is going to be of little help to you. A GPS system will be much more useful and ensures more accurate reading of the land, saving you from an embarrassing loss in the wilderness. 
Communication tools are also essential. Though you likely chose to get away from civilization, it's important for you to be aware of your surroundings in order to remain safe. It's also crucial that you stay in contact with the other members of your group so that if something does come up, everyone will be aware and could possibly help out. We recommend getting satellite radio, or even a shortwave radio, to stay up to date on weather and more. And while your cell phone likely won't have any reception, walkie-talkies are a phenomenal way of communicating on the road.    
Cooking Essentials
Adding a portable fridge is the most popular upgrade because they are extremely useful and convenient. One of the biggest pros of purchasing a portable fridge is the ability to carry perishable items that will last throughout the duration of your trip. With portable fridges, you are able to carry all of your groceries and frozen goods. 
Rough County's 45L Portable Refrigerator / Freezer (12 Volt | AC 110) is the perfect product for your next off-the-grid camping adventure. The PR 12 plugs into your UTV or vehicle with a DC power cord to guarantee ease of accessibility and multi-functional use.
The refrigerator is equipped with an airtight seal combined with fluoride-free insulation to preserve heat via low energy consumption. Additionally, you can maintain separate temperatures for your refrigerator and freezer with a cooling range of -4° to 68° F, designed to survive harsh environments, extreme temperatures, and any creatures you may encounter.
You're also going to need a portable stove or grill to cook all of your meals while on the road. There are several brands and styles to choose from and range from gas to wood burning. 
Camping Gear
In order to keep up your energy and continue on with all your adventures, you need to make sure you're resting comfortably. Car camping and overlanding are more comfortable than ever thanks to the wide range of tents and custom camper shells available.   
Tents give you the ability to explore the great outdoors and camp, hunt, or adventure wherever your vehicle can take you! TSA tents are made from high-quality materials that are not only weather-proof but compatible with almost any terrain. It's rather easy to distinguish between Rooftop and Ground tents. Rooftop tents are situated on top of your vehicle or trailer, and ground tents are of course placed on the ground.
Camper shells are also popular and our favorite is the SmartCap. SmartCap is the world's first modular and stainless steel custom camper shell, with guaranteed unmatched protection and next-level organization for your truck bed. Made up of five panels, installation is user-friendly and you can customize your truck bed with components to keep your products dry and secure while providing a solid platform for rooftop tents.
Safety Supplies
Safety is so important, especially when you're out in deserted territory and can't seek outside help very easily. The most obvious safety supply you'll need is a first aid kit. Anything can happen in the wild and a first aid kit will help you manage any injuries that occur until you can reach professional medical aid. You should also keep a fire extinguisher on hand as well as extra lights and lamps. 
Overlanding with TSA Custom Car and Truck 
Whether you are driving through the mountains or the remote backcountry, you want to make sure that you have everything you need to embark on your next excursion. TSA Custom Car & Truck carries everything you need for your next camping, off-roading, or hunting trip, with a variety of custom pickup toppers and camper shells from the brands A.R.B., Overland Vehicle Systems, and Smittybilt.
Connect with us today for the bes truck accessories and camper shells.