Roadmaster
ROADMASTER continues to produce high-quality, aesthetically-pleasing tow bars for customers all around the world. They use computerized testing on every new tow bar design and was the first towing products manufacturer to do so! The tow bar options are Non-Binding Tow Bars and Classic Tow Bars. The Classic Tow Bars offer time-tested and time-proven reliability and endurance. They feature a powder-coated finish, stainless steel moving components and a full length crossbar for additional safety. The Non-Binding Tow Bars are their premium tow bars. Offering all the features the Classic Tow bars have, they add the benefit of releasing your towed vehicle easily even when the tow bar is at a difficult angle.
ROADMASTER offers three different braking systems to fit your needs. First is a "hidden" system called InvisiBrake. Next system is a "direct" system called the BrakeMaster. Lastly they offer a portable system called Even Brake or 9700. All of these systems will bring your towed vehicle in compliance with the U.S. and Canadian requirements. They all include an emergency break away system that will stop your towed vehicle should it every separate from the motorhome. They work virtually in any vehicle with power brakes and in any motorhome. All ROADMASTER systems greatly decrease your stopping distance which will help you avoid accidents.
ROADMASTER base plates are made in two styles which are a quick disconnect and a direct connect. The only difference is how the tow bars connect to them. The quick disconnect style base plates have arms that terminate in a flat surface. The direct connect style base plates terminate with a set of two tabs that receive the lugs at the ends of the tow bar arms.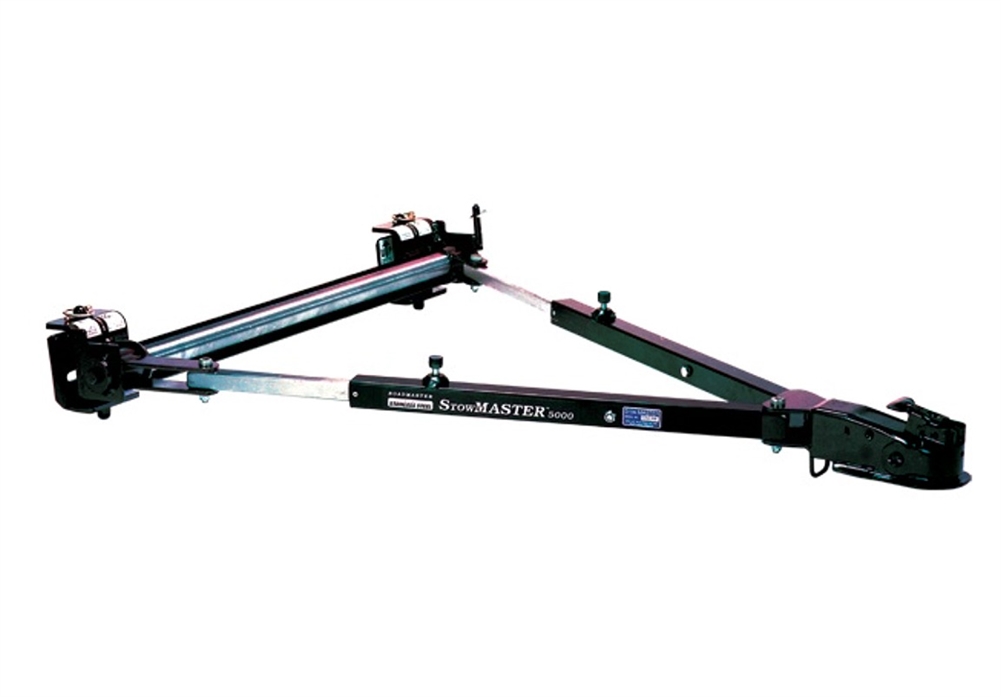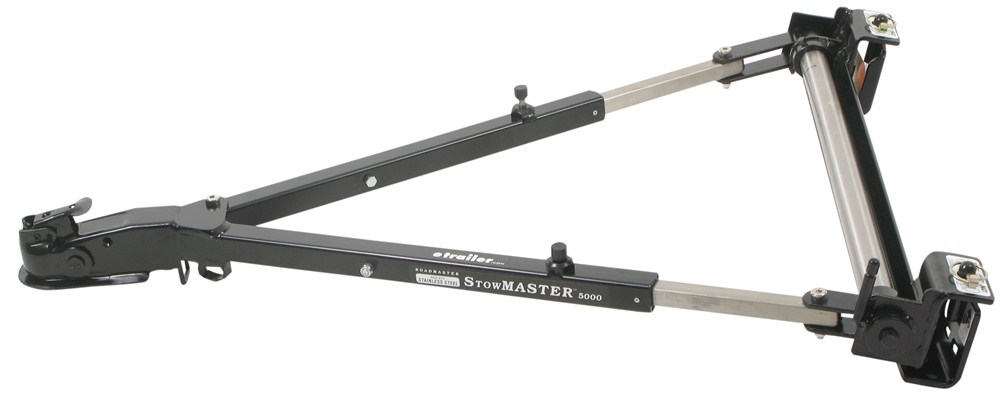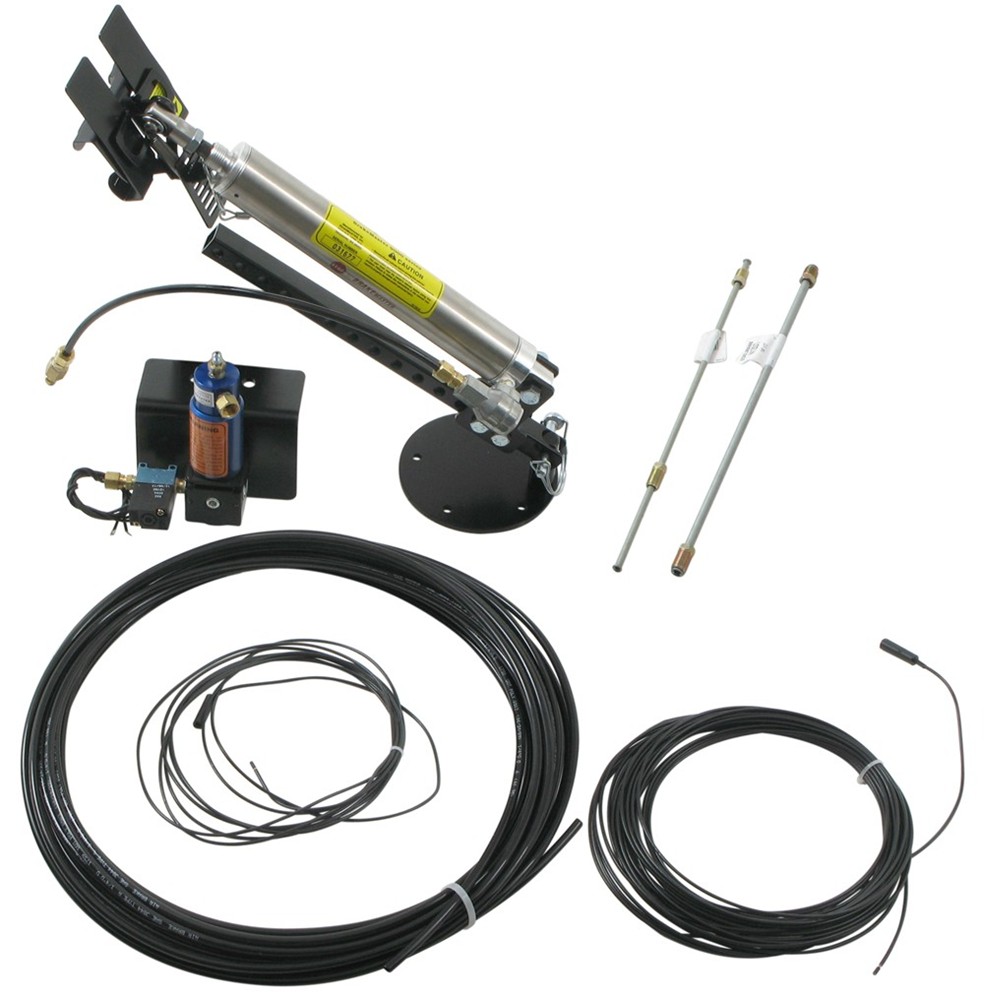 M&G Braking System
M&G Braking Systems are the most effective braking control system on the aftermarket today. With each brake model, we will install an air cylinder in your tow vehicle plus a "quick-connect" air pressure line between your RV and four-down tow vehicle. When you press the brakes in your RV, the brakes in your tow vehicle will be simultaneously and automatically applied through the pneumatic line, giving you the additionally needed braking control and braking force for safe stopping action.
For each model braking control system, our patented air cylinder will be mounted in the towed vehicle between the master brake cylinder and vacuum booster. An air pressure line will be connected to the RV's air brake system and extended to this special air cylinder in the towed vehicle, with a quick disconnect arrangement between the two vehicles.
Our system can solve your motor coach/towed vehicle braking problems! This added margin of safety can help protect your life, the well-being of your passengers and the huge investment you have in your RV and towed vehicles.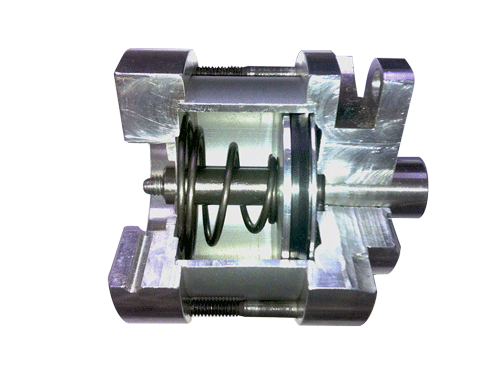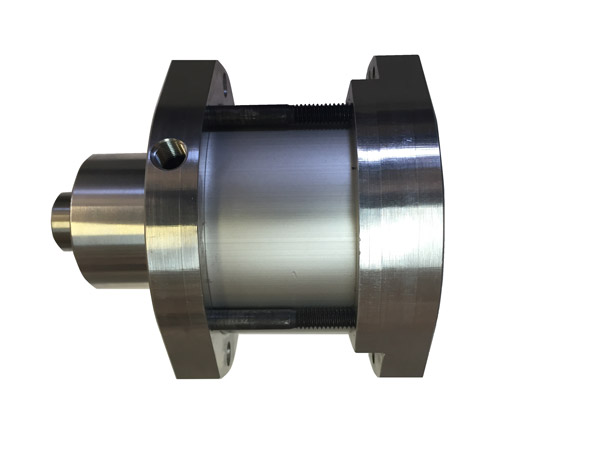 Demco
Demco base plates are mounted to the vehicle chassis to provide an area where a connection between the tow bars and vehicle can be established thus enabling one vehicle to safely tow another. This is fundamental unless you are transporting a vehicle such a short distance that it may allow for a system of chains, cheaply rigged to just get by. With that being said, to tow properly, base plated are necessary.
Traveling via RV can involve a lot of work. For many years, tow bars have been used for hauling heavy vehicles that are large and difficult to manage and manipulate properly. The award winning Victory Series tow bars from Demco have revolutionized the RV Lifestyle and Experience. The Demco commander 2, the excali-bar 3, and the dominator are all self supporting, self aligning and self leveling. Each of these have arms that move independently of each other, which is a first in the RV industry.
Demco has Supplemental Braking Systems that are patented with features that provide the absolute cutting-edge in towed vehicle braking technology. The Air Force One and the Stay-in- Play Duo are integrated braking systems that will give you the advantage of having no set-up time when towing. The system is interchangeable from on vehicle to another but does require
some set-up when towing.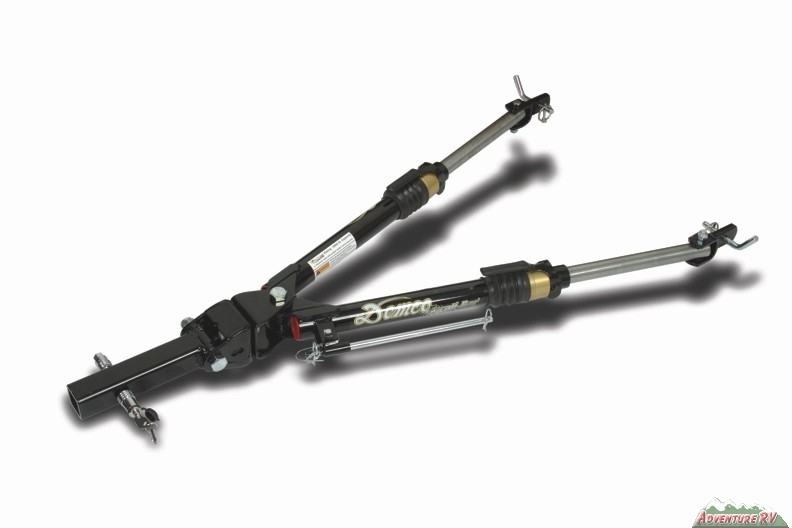 Blue Ox
The #1 choice for America's towing needs are the Blue Ox Baseplates. They come custom made to fit any towing situation without having to require drastic alterations to your vehicle. The Blue Ox unique design allows the towing baseplate to flex and absorb any shock during the drive instead of transferring the force of the bumpy ride to the frame of the vehicle. To minimize how much pressure is placed on the suspension, the weight is spread evenly.
Blue Ox have three options of tow bars that are in stock and ready to ship today! First being the RV Mounted Tow Bars, the Vehicle Mounted Tow Bars, and the Pintle Ring Tow Bars. Once you decide on which tow bar fits your needs, you will be able to choose from even more options of tow bars to help fulfill all your towing needs.
Blue Ox supplies Patriot Braking Systems. The Patriot 3 Brake System from Blue Ox gives you the comfort needed when you are breaking your tow vehicle. On top of being convenient and easy to store, it also proportionally applies the brakes smoothly while you are slowing down to make a stop rather than jolting your tow vehicle resulting in costly damages to your brakes. The Patriot 3 even works with Hybrids! The Patriot Braking Systems are also all electric which means no pump, tank or air hoses to leak. It will even automatically check your brake pressure to ensure proper setup!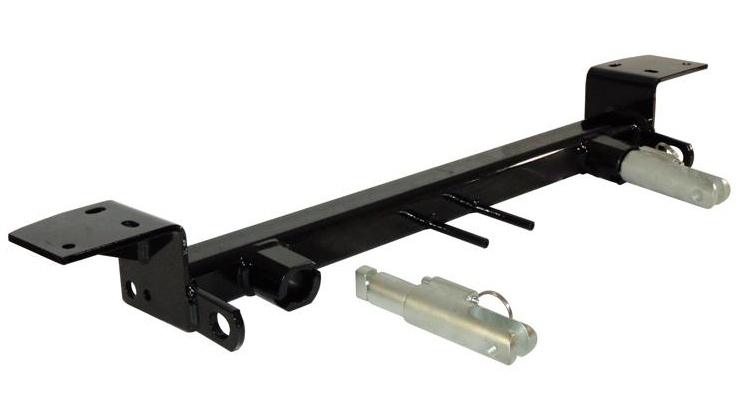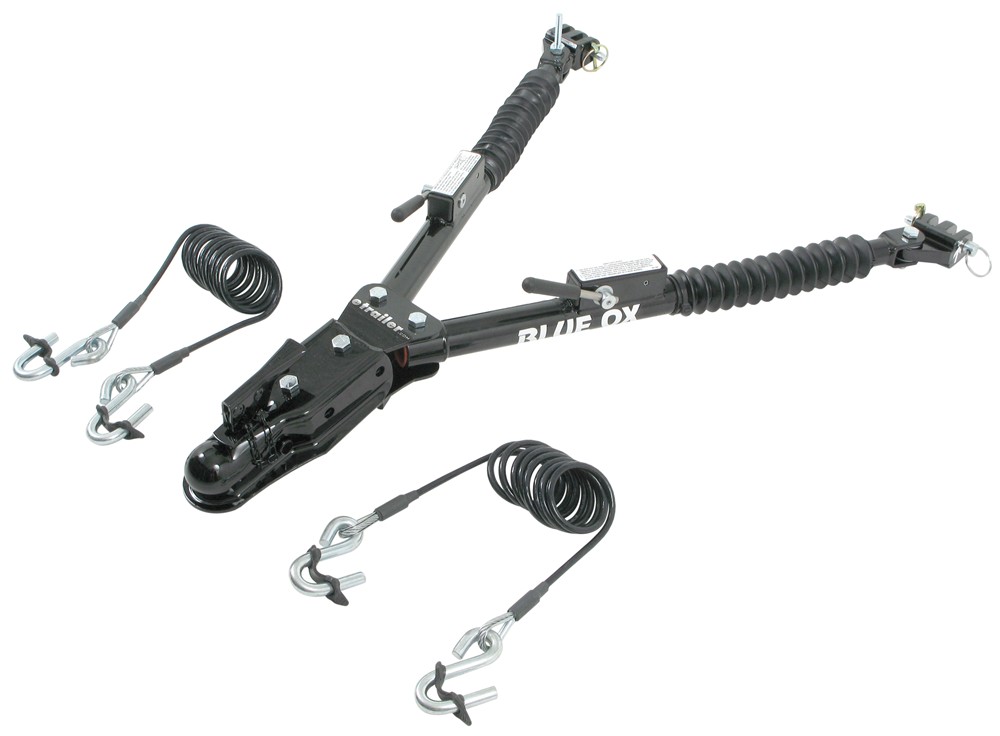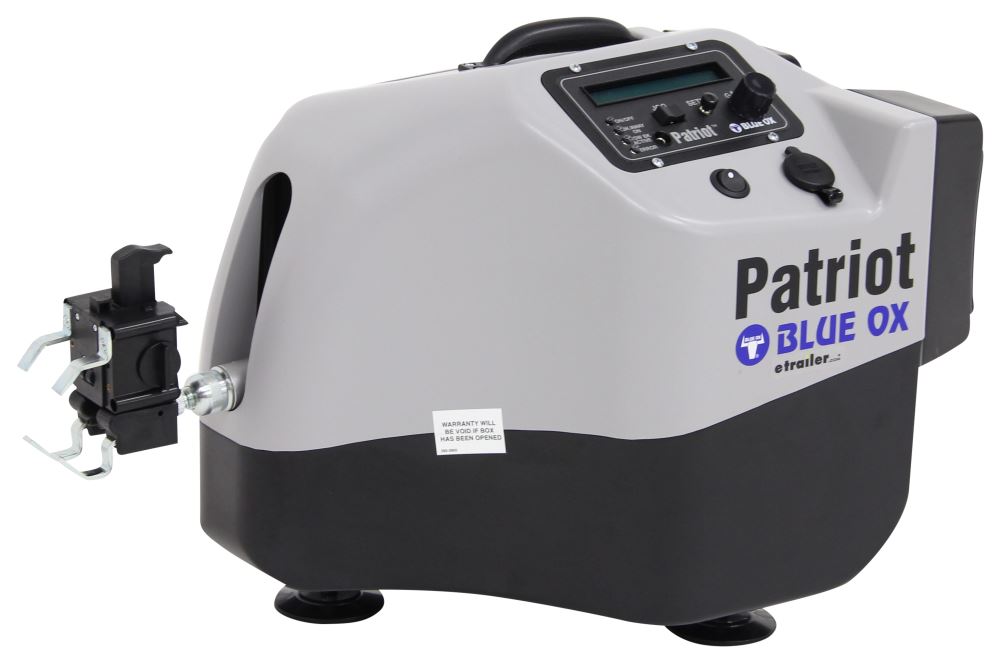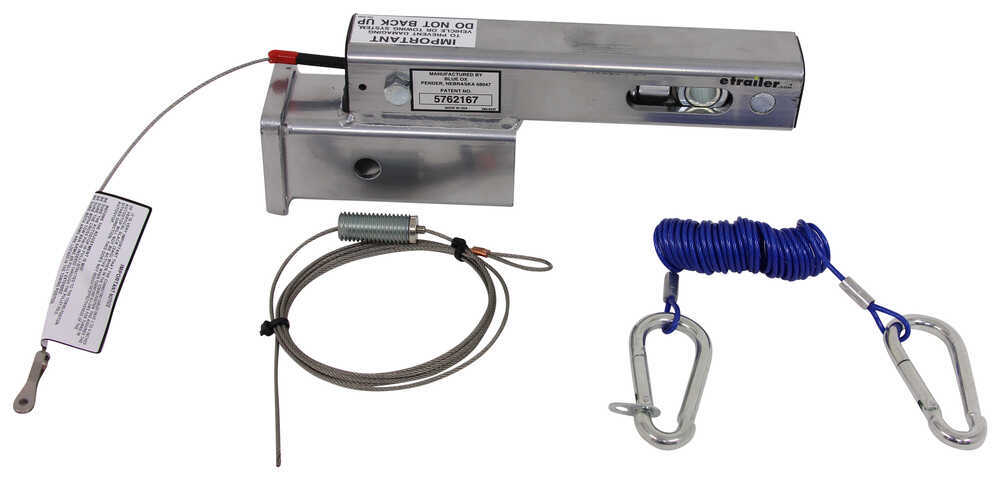 CURT
CURT towing base plates are designed to be vehicle-specific towbar brackets. Each tow bar base plate fits a unique make and model that ensure a custom fit. They provide a solid connection for dinghy towing your vehicle with tow bars. They are precisely welded for superior strength and fit. CURT base plates are protected by a durable high-gloss black powder coat finish and co-cured in a rust-resistant liquid Bonderite coating, inside and out.
CURT tow bars make it easy to bring your vehicle along for your next RV adventure. They can easily bolt onto your vehicle's frame which allows it to couple to a standard 2" diameter trailer ball. The CURT adjustable tow bar with 2" coupler is ideal for dinghy towing a small vehicle behind an RV. They have brackets that mount to the frame of the vehicle and also come with a limited lifetime warranty. (one-year finish, one-year parts).