Winter is cool and so is this creation we whipped up!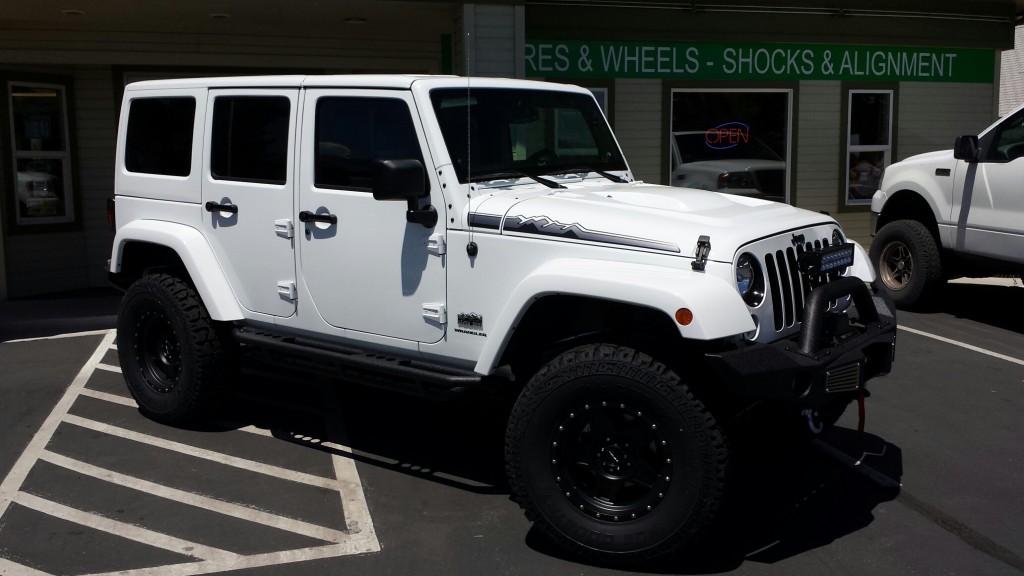 White 2014 Jeep Polar Edition
The sovereign of snow. The master of mountains. The winter warrior. We outfitted this 2014 Jeep Wrangler with all the custom fittings to create the ultimate beast of the Sierras. Be one with the snow that you tread upon.
We customized this 4-door, 2014 Jeep Polar Edition with a 3.5" lift kit has 17X9 pro comp wheels, with 35" Dick Cepek FCII tires; which are perfect for Northwest Nevada's mountainous area. The tires also have a hybrid design which makes them ideal for a variety of terrain, especially mud!
This Jeep has front and rear Atlas Bumpers; and a Smittybilt 9500 lb. heavy duty waterproof winch. The Smittybilt winch has a 6.6 horsepower amphibious motor and a 3-stage Planetary Gear System which offers more torque and pulling power. We've also added Smittybilt side armor. With a one-piece design that is fully welded, this design offers plenty of protection no matter where you're taking it. It also doubles as a step to make it easier to climb inside.
Lastly, we mounted a Westin 15″ L.E.D. light bar to the front. Westin's light bar housing design keeps the inside temperatures lower which helps the LEDs run more efficiently. Combined with the overall ruggedness of the housing unit, and the scratch-resistant lens; this Jeep is ready for anything!
Like this custom-made Jeep Polar Edition? TSA Custom Car and Truck can hook you up with your own custom vehicle. Give us a call or check out our gallery for other custom vehicles.