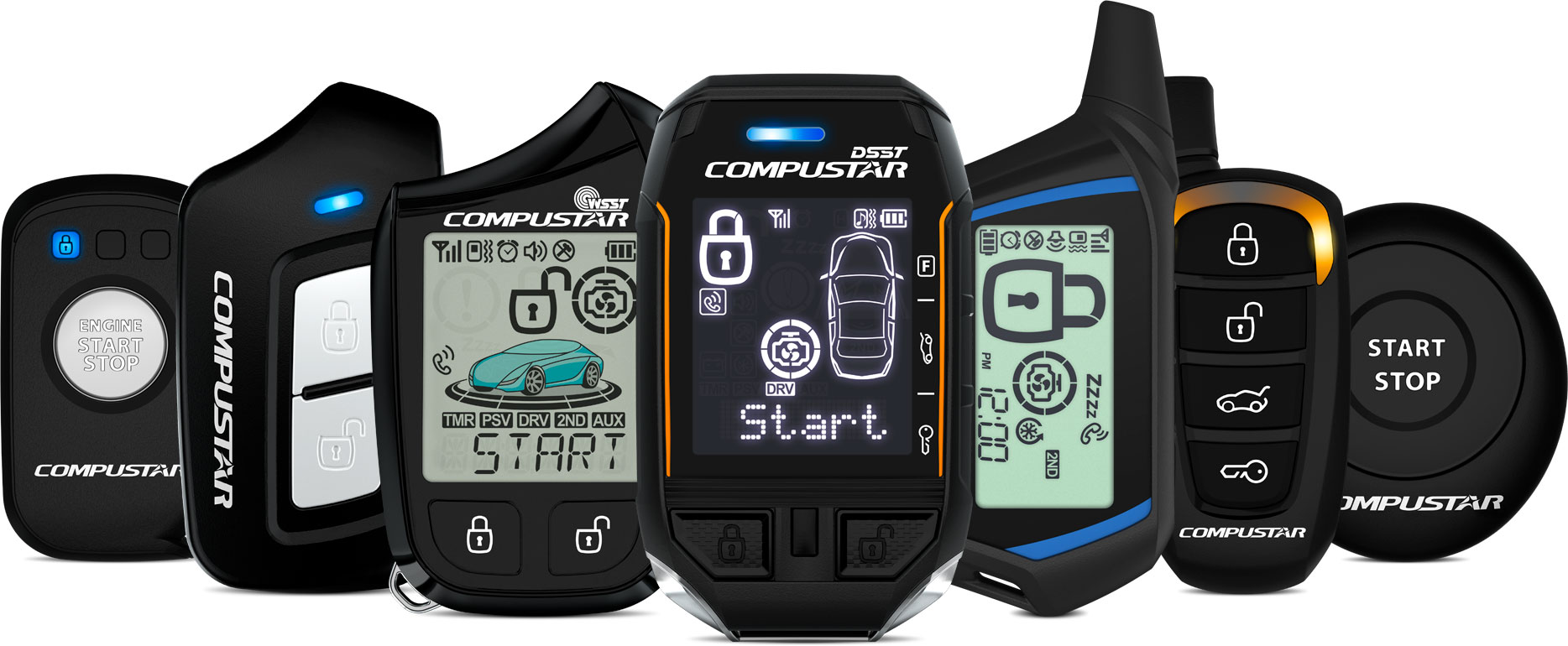 Compustar
Remote Car Starters
Gain the upper hand in dealing with challenging weather conditions by taking advantage of the convenience of remote engine starting. Compustar, a reputable and industry-leading manufacturer, offers a wide range of remote car starter systems to meet your needs. These systems are designed to provide you with an enhanced driving experience, no matter the weather outside. Let's delve into what makes Compustar stand out in the world of remote car starters.
1. Extensive Compatibility: One of Compustar's key strengths is its compatibility with a vast array of vehicles, including those with manual transmissions. Whether you drive a compact car, a rugged SUV, or a manual-shift vehicle, Compustar has a solution tailored to your specific needs. Their dedication to inclusivity ensures that a wide range of drivers can enjoy the benefits of remote starting.
2. Web-Programmable and Updatable: Compustar takes remote starting to the next level by providing web-programmable and updatable systems. This feature makes it exceptionally easy for your installer to customize your remote car starter to suit your preferences and requirements. As technology evolves, Compustar ensures that your system remains current and adaptable. This commitment to flexibility means that your remote starter can grow with your needs.
3. KLON Technology: Compustar's remote car starters employ innovative KLON technology. This technology allows the system to replicate your car's key signal, essentially mimicking your physical presence. This secure and reliable method enables you to start your engine remotely with confidence, knowing that your vehicle is protected.
4. Convenience and Comfort: With Compustar remote car starters, you can start your vehicle from the comfort of your home, office, or any other location. This means you can warm up your car in the winter or cool it down in the summer before you even step outside. Say goodbye to uncomfortable temperature extremes and embrace the comfort and convenience of a pre-conditioned vehicle.
Compustar's remote car starter systems offer a range of advantages that enhance your driving experience. Their compatibility, web-programmability, KLON technology, and commitment to providing convenient solutions make them a preferred choice for both installers and drivers. Whether you're preparing for a chilly winter morning or a scorching summer day, Compustar helps you take control of your vehicle's environment and ensures that you're ready to hit the road in comfort.
If you're considering a remote car starter system, Compustar is a trusted name in the industry, known for its quality, reliability, and commitment to customer satisfaction. With their innovative technology and extensive lineup of products, Compustar offers a solution that fits your needs and lifestyle. So, why wait? Enjoy the convenience and comfort of remote engine starting with Compustar.
Feature options include autostarting, keyless entry, one or two-way transmission confirmation, options for compatible security systems, and command range from 2000 feet to a mile. Stop by our store or give us a call for more information about our Compustar remote car starters.